Lead With Purpose Webinar
A Purposeful, Online Workshop for Founders, CEOs and Managers.
The market demands that you understand your purpose and your values and that you portray these values consistently and effectively.
This workshop will help you refine your thinking and give some structure and understanding on how to implement and carry your dream to operate a business which truly matters to your employees, your customers and you.
Position yourself as an early adopter of becoming a purpose-led business!
When: Thursday, 25th March, 2021
Time: 2:00 pm - 4:00 pm AEST (2 hrs)
Where: Online Zoom Webinar
Cost to Attend: Free
Our Donation: For every registered attendee MeMedia will donate $10 to the Tree to Me Program to help the Currumbin Wildlife Hospital Foundation continue to plant eucalypt trees in their plantations to support Koala habitats.

Register in advance for this webinar: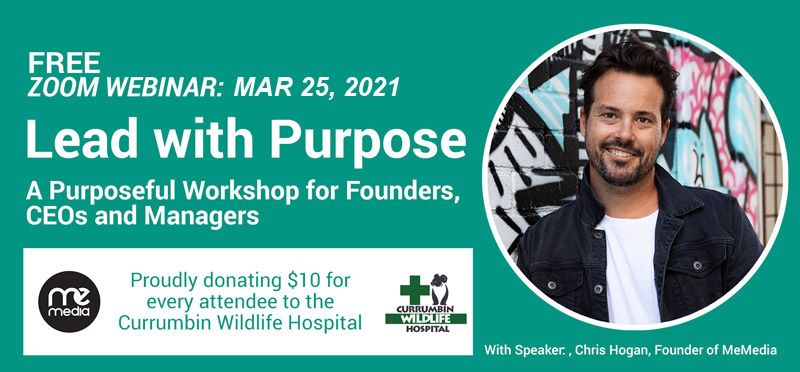 G'day I'm Chris Hogan
I'm so grateful to be here, ready to inspire individuals and organisations to develop a marketing strategy for the 2021 and beyond.
"Purpose-Driven Companies Evolve Faster Than Others"
Forbes, Contributor Caterina Bulgarella
For over 20 years I've been a marketer and during the course of my career, I've discovered that there is a common theme amongst the best marketers in the world. They are:
Purpose-led.

They have a united team culture all rowing in the same direction
They are consistent and tenacious and driven by their values

Market-led.

They know what problem they solve and who they solve it for.

Opportunists

They see opportunities where others don't or aren't willing to.

Active.

According to the key insights of a PwC study of purpose in the workplace titled, Putting Purpose to Work:
Business leaders say that purpose is central to business success, but it's not consistently being used as a guidepost for decision-making.
In order to drive this individual connection to purpose, employers must take an empathetic approach to understand the value of their products and services and how those benefits provided to customers are a direct result of employees' day-to-day contributions.
Business leaders tend to focus on the value in defining and illuminating the purpose of commercial success. For employees, purpose represents an avenue by which they find personal fulfilment.
Team leaders and coaches hold the greatest potential for helping employees reframe their roles to give context and bring meaning to their daily work.
A Purposeful business only goes as far as its people are willing to carry it.

So what are your values?
What is the value you bring beyond your product? What is your purpose? Who does your organization serve? How does this make your customer, your employees and you feel?
All of these questions align to building organisational culture and according to Seth Godin:
"Culture is strategy."
Developing a marketing strategy which aligns you and your team's values and purpose with your customer's values and pain points ensures your product is validated to not only fit the market but deliver a remarkable experience.
The marketing collateral you create consistently carries the messaging which you and your organization live by, and the more consistent your organisation distributes this message both internally and externally the more aligned you become.
If all of this sounds confusing or too hard, then this month's marketing strategy workshop is for you.
In this 2.5hr workshop, we will work through the first step in developing a brand built on purpose by learning:
Why it's important to be a purpose-led business
How to discover your purpose, values, and passion
How to bring your values to work
How to better understand the problem that you solve
And how to begin to articulate this to yourself, your team and your customer
I've had the joy of helping businesses right across the globe with their marketing. I'd love to help you too.
Here's my promise:
$10 for every attendee will go to the Currumbin Wildlife Hospital Foundation
If you would prefer to conduct this workshop with your team, we can organise that.

Who's this for:
If you're a founder, CEO or manager who's adventurous but has grown up being more of a sprinter than a marathon runner. If you've always been quick to learn and quick to execute, if you have had a knack for spotting the next big thing and not done anything about it — then this workshop could help you.
Firstly I suggest Founders, CEOs and Managers complete this workshop.
Secondly, I suggest organisations take this workshop in-house and perform it with their team.
If you're one of the lucky ones, you've been able to use 2020 as a year of reflection to discover your purpose and what values guide you every day.
You've been able to take action and have developed a keen eye for understanding how you need to structure your business and marketing activity to full-fill your purpose.
If you've been working harder than ever, with your head down and bum up, grinding away in the trenches then I hope that this small amount of time we spend together helps you to think about your strategic direction and how you might create a future for yourself and others which is inspiring and successful.
About the cause this workshop helps support:

The Australian bushfire season of 2019/2020 decimated 18.6 million hectares (46 million acres; 186,000 square kilometres; 72,000 square miles) of human and wildlife habitat.
According to the WWF, 3 billion animals were impacted by Australia's bushfire crisis.
2019 saw over 12,200 animals, including 600 Koalas admitted into the Currumbin Wildlife Hospital - a service that is provided free of charge to the community.
In aid of the Currumbin Wildlife Hospital Foundations contribution to the Australian community, we will be donating $10 for each workshop attendee to the hospital.
Please help us by sharing this workshop with those leaders you feel would appreciate spending some time on this topic and also helping support a worthy cause.

Here's what some of our previous workshop attendees have said:
---